Planning your first ever trip to Los Angeles? We're here to guide you to everything you need to know. From when to visit, how much you can expect to spend, the sites you cannot miss, and our top tips. Having both experience living in Los Angeles as well as being tourists to this wonderful city, we've got the inside intel you need to start planning today!
Table of Contents:
Where to Stay in LA
When it comes to staying in Los Angeles, there are plenty of options. As a city spanning almost 502 square miles, you won't be short for choice. We've picked out our favorite areas we've ever stayed in LA to help guide you.
Westchester – A residential neighborhood of LA near the airport that is an easy drive from just about anywhere. It's also walkable with lots of local restaurants and cafes to enjoy.
Culver City – A wide area that's very residential, you'll find lots of Air B'n'Bs here. It's perfectly located for driving around different parts of the city.
Venice Beach – If you're after a relaxed holiday staying in one part of LA, we highly recommend Venice. This area is walkable, perfect for a weekend break.
Having stayed in both hotels and Airbnbs in the city, each caters for a different type of holiday. If you're planning on being in Los Angeles for a couple of weeks we highly recommend hiring an Airbnb with a kitchen – even if it's just a stove top – this will save you lots of money on food (more on this later)! If you're only around for a couple of nights, then there are plenty of hotels and motels that cover a wide range of budgets.
When to Visit LA
They say LA has great weather all year round – but if you're looking for a hot vacation destination to catch a tan then we'd advise against the winter months as it can get very cold at night.
Our favorite time to visit Los Angeles is during the spring as whilst it is warm – and you're likely to develop that SoCal tan – it's also a comfortable temperature to spend days hiking and exploring the city without needing to take cover from the sun! This time of year has a lower wildfire risk too – which is good if you're planning on staying in a fire prone area.
How Much Does it Cost to Visit Los Angeles?
How much it costs to visit LA depends on a number of factors from how you plan on getting here, to where you intend to stay, and what you do whilst you're here. Here are some typical costs:
Flights – whether you're flying from somewhere else in the US or further abroad will impact how much your flights cost. With return flights from New York to LA starting at under $200. And round flight from London to LAX typically costing around £800 if booked well in advance.
Car Hire – hiring a car can start as little as $17 a day which can work out cheaper than Ubers if you're planning on exploring lots of parts of the city.
Meals – depending on where you plan to eat meal costs can vary. Sit down restaurants at a mid level are often around $50 for two people – including tip. Whilst evening meals can often be more, especially when paired with a cocktail or two.

Save money by making your own meals and visiting the local grocery store – we like Ralphs as one of the more affordable options.

Accommodation – typically lower range hotels come in at about $100 a day. However, high starred ones will be far more expensive. Renting your own space for your stay can often be the most affordable option, if you hunt around you may even find a bargain. We've stayed in great Airbnbs in safe areas with lovely hosts for as low as $70 a night.
Attractions – whilst many museums are free, there are also lots of attractions you'll have to pay for. Lots of museums cost around $25 per person, and larger attractions such as studio tours and theme parks can cost from $70 upwards per person.
LA Money Saving Tips
Visiting Los Angeles can be expensive – after all, travel, accommodations, food, and activities all add up! Here are our top money saving tips:
Check for flight offers if you are flying into LAX. Credit card companies often have great deals with certain airlines that can save you hundreds of dollars!
Choose an Airbnb with a kitchen – even if it's just a small stove top. This way you can cook your own meals from ingredients bought at the grocery store – which is far cheaper than eating out every meal.
Take a packed lunch out with you – again this could save you an extra $25-50 dollars a day!
Choose free activities. Whilst there are so many amazing things to do in LA that cost money, there's also a wealth of things that are free to do! From free museums to hikes, to simply enjoying time on the beach!
How to Get Here
As the USA's largest city, LA has great transport links from across the States and from abroad.
LAX – If you're flying into LA, LAX is the main airport and is located in the south of the city. LAX itself is well set up for arrivals with buses, taxis, Uber ranks, and shuttles to car hires.
Union Station – For accessing LA from closer afield, Union Station in downtown LA has trains coming into it from places such as San Francisco.
Getting Around LA
Los Angeles is notorious for its poor transport links around the city. It is a city of cars and traffic, but within smaller areas you'll find it much more simple to get around!
Hire car – our recommendation for visiting LA is to hire a car – however scary it sounds to drive in this city! This makes it super easy to get around – and in a lot of cases is far quicker than public transport.
Uber/Lyft – if you don't have a car the easiest way to get between different parts of the city is a car share app. To save money you can always opt to share your ride with strangers. Prices often differ between apps so we suggest checking all the ones you have before choosing which to use.
Bus/Metro – there are buses and a metro system in LA. However, unless you're trying to go a short distance these can be tricky to navigate and take a very long time compared to a car!
Walk – certain areas of Los Angeles are walkable, especially areas like Venice, Santa Monica, and Downtown, as well as some of the more residential areas.
Los Angeles Landmarks to See
If it's your first time in LA, there are certain landmarks you're going to want to tick off your bucket list:
Hollywood Sign – the Hollywood sign is what comes immediately to mind when most people think of LA. You'll catch glimpses of this around town, and we recommend hiking up to it to get a unique view.
Venice Sign – leading down to the Venice Boardwalk you'll spot the famous sign strung between the buildings. Make sure you visit in day and at night to get views of it both lit up and not.
Santa Monica Pier – the pier is an iconic spot in LA, from the theme park on the pier, to the restaurants, you cannot miss seeing this.
Hollywood Walk of Fame – another icon of LA, the Walk of Fame contains the stars of celebrities. We only recommend visiting this if you're in LA for a while and have time to kill as it is one of the city's tourist traps. Be careful to watch for scam artists and pickpockets here.
Los Angeles Beaches
One of the things that makes LA unique as a city is the fact that it is coastal. We're a little biased but we think Los Angeles sports some of the most beautiful beaches in the US. Here are our favorites:
Venice Beach
Santa Monica Beach
Malibu Beach
Manhattan Beach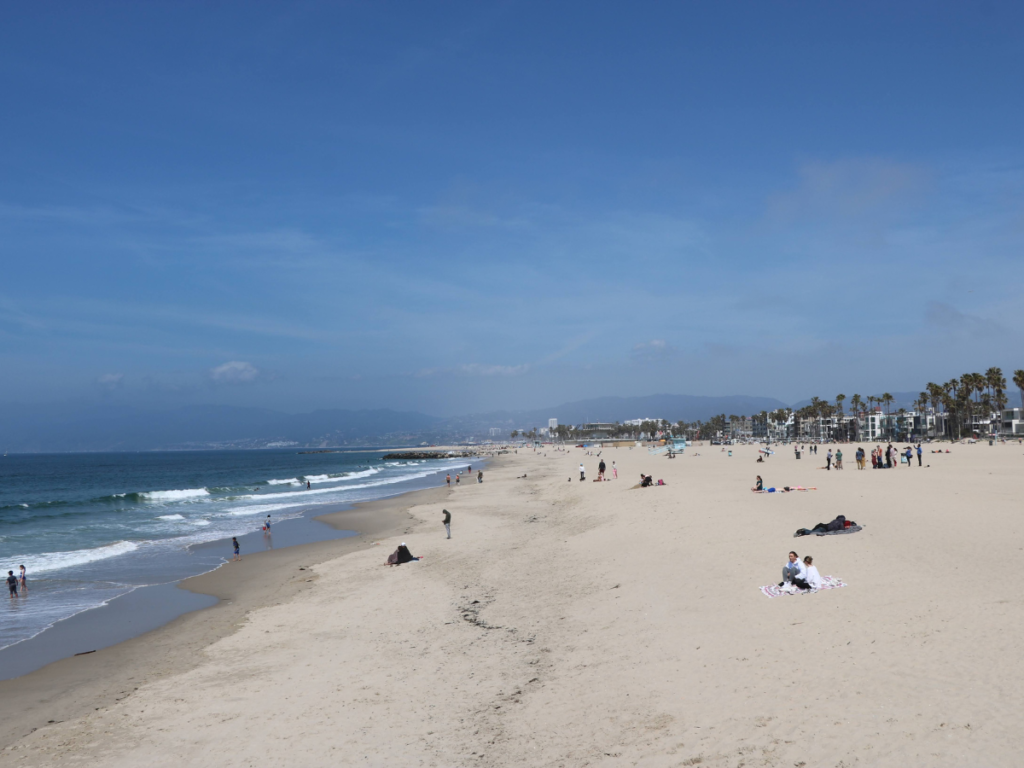 Museums to Visit in LA
As a big city Los Angeles is full of museums! From small local ones that dive into the history of their area, to niche museums for specific interests, and the larger art museums. Here are just a few we recommend you visit whilst you're here:
LACMA
Getty Museum & Getty Villa
The Broad
La Brea Tar Pits
Natural History Museum
Hiking in Los Angeles
Angelenos are known for their love of hiking! And with such amazing valleys and canyons it's no wonder why! Taking the time in your vacation to go on a hike or two will truly make you feel like a local! The views when you get to the top of these are also incredible and certainly not to be missed. Here are some of our favorite places to hike in LA:
Runyon Canyon
Griffith Park – this park is very large and has lots of hikes to choose from!
Hollywood Sign Hike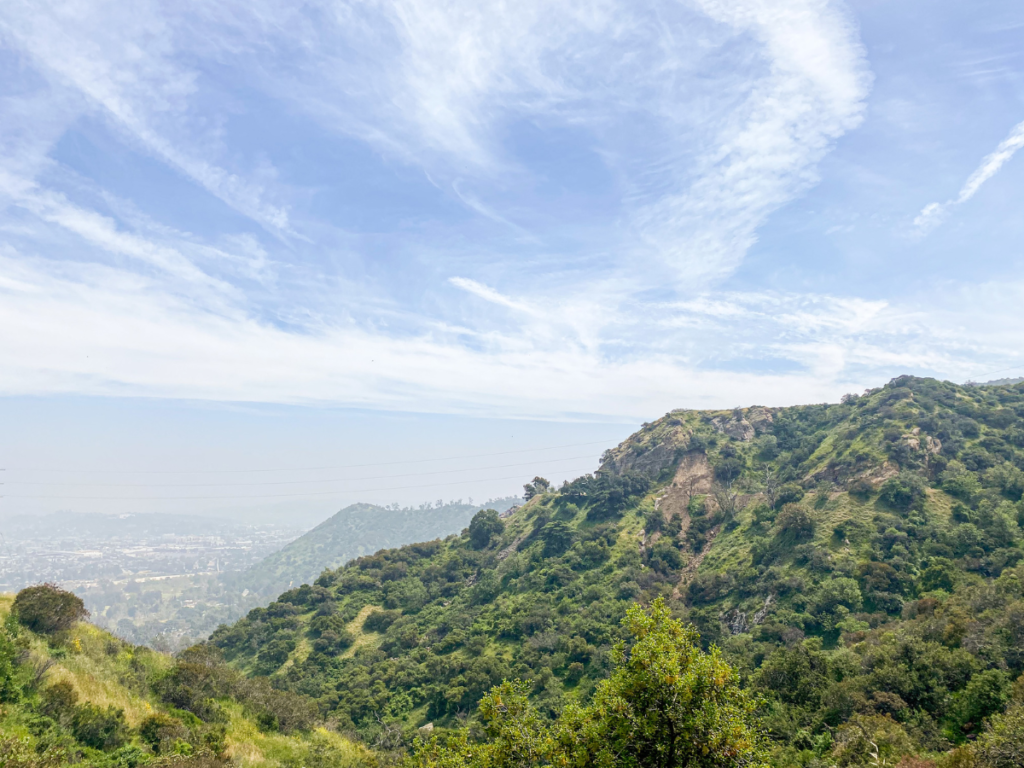 Studio Tours in LA
Hollywood is known for the great films and TV shows it produces. If you're here for an insight into how these are made then you cannot miss going on a studio tour! Our personal favorite is the Warner Brothers tour, but there's plenty more to choose from:
Warner Brothers Studio Tour
Universal Studios Tour
Sony Studios Tour
Paramount Pictures Tour
Shopping in LA
It would be wrong to visit LA without doing a little shopping – even if it is just window shopping! As such a big city there are loads of places you can go but a few of our personal favorites include:
The Grove
Rodeo Drive
Melrose Trading Post
3rd Street Promenade
Where to Eat in Los Angeles
Again, in a city as sprawling as LA you'll never manage to eat everywhere. With so many local and world renowned restaurants you'll certainly have your pick whatever type of food you enjoy! Here are some of our favorite restaurants and cafes to eat at in different parts of LA:
Egg Slut
Sugarfish
The Butcher's Daughter
Bird's Nest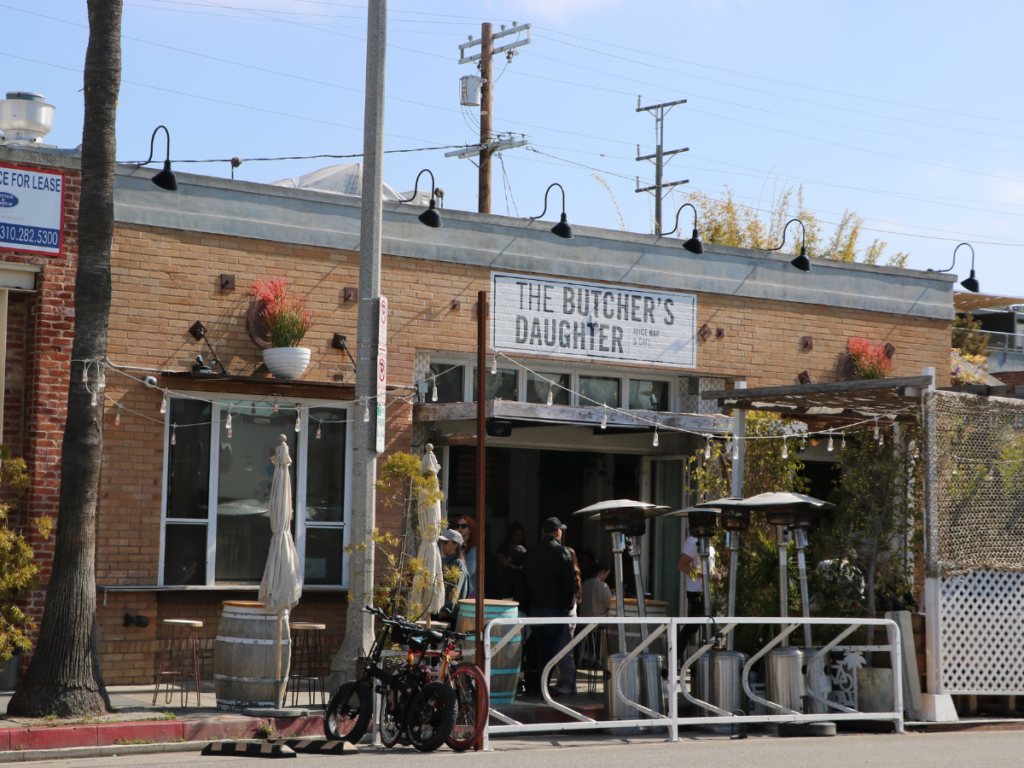 Things to Know Before Coming to LA
If it's your first time to LA, here are a few things we think you should know ahead of your visit:
On-street parking – LA has a lot of on-street parking, particularly in residential areas. When parking make sure you're parking in the direction of travel for the side of the road you're on to avoid getting a ticket!
Traffic – we expect you've heard of LA's infamous traffic before – and it's no joke – expect to sit in a lot of queues of cars whilst you're here. So long as you're expecting to come up on traffic, it's not too annoying!
Skid Row – this area of Downtown really isn't safe for tourists – please identify it on your own maps before heading here so you can ensure you avoid it.
It gets cold at night – whilst the days tend to be sunny and warm throughout the year, the nights do get cold in LA (even in August) so make sure you take a jacket out with you in the evening!
There's no real center – LA is actually formed of multiple cities, which means there's not really a center to Los Angeles like you see in other cities such as New York.
Earthquake prep – Los Angeles sits on the San Andreas fault line which makes it prone to earthquakes. Read up on how to act in the event of one before your trip to ensure you're prepared. In all our time spent in LA, we've only experienced one small earthquake that happened during the night.
What to Pack for a Trip to LA
Obviously what you need to pack for LA is going to change depending on the time of year you go so make sure you check the weather forecast for your trip! Here are some of the things we recommend taking to Los Angeles:
Sunglasses
Sunscreen
Walking/hiking shoes
Comfy shoes
Flip flops/Sandals
Swimsuit
Beach towel
Summer clothes (if visiting in Spring/Summer time)
Warmer clothes (particularly for the Winter months)
Layers – think jackets and hoodies to keep warm at night
Camera
Drivers license – if you plan to hire a car
LA FAQs
We've put together a few of the most asked questions about LA to help guide you on your visit even more.
How Safe is Los Angeles?
LA is just as safe as any other city – whilst it has its crime, for the most part you should be okay. We recommend being vigilant, keeping an eye on your bags, and avoiding the rougher areas of town whilst visiting. 
Does Los Angeles Have a Subway?
LA has its own metro system that runs across some parts of the city – particularly Downtown, with some of the line underground. However, it doesn't service the whole city so don't rely on this to get around everywhere.
How is Los Angeles Traffic?
LA traffic is notorious for being bad – and for the most part this is very much true. Our top tips if you're a tourist are to avoid traveling at rush hour (the hours when people are going to work), and to always leave extra time to get to your destination.
Does LA Get Snow?
Very very occasionally LA will get snow, with it snowing 4 times since 2000. The tops of the mountains around Los Angeles are probably where you're going to see the most snow in this area of the USA.
How Much Rain Does LA Get?
LA gets its rain usually between November and April – with an average of almost 15 inches a year. However, in recent times, they've seen more severe rain in the Spring period. We always advise you to check the forecast before you go.
Do I Need a Car to Visit LA?
If you want to pack lots into your trip – we do recommend hiring a car. However, with Uber and Lyft it is possible to do LA without a car.
What Time Zone is LA?
LA is in the Pacific Time Zone.
LA Map
About The USA Eats List
We're here to bring you the very best that the USA has to offer. From the Californian coast, to the city lights of New York – inspire your next trip now.